Acorn Training's Facebook following chooses winner of the '2020 Christmas Card Design Competition'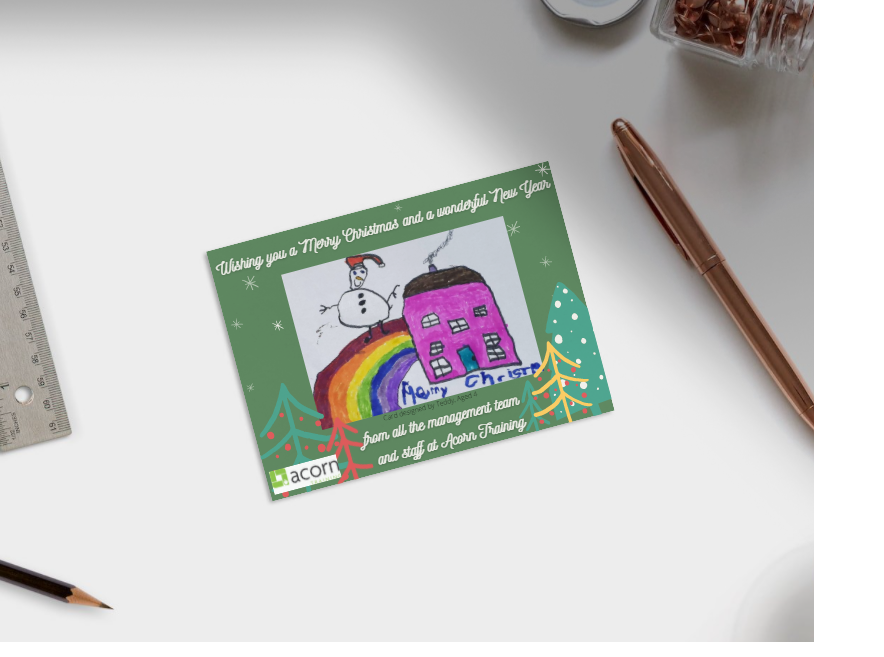 (Monday 7th December 2020) Acorn Training launched a Christmas Card Design Competition to decide what will adorn the front of their annual Christmas card and posted details on how to vote for their 2020 Christmas Card Design Competition winner on their Facebook page. The competition was created by Acorn's Managing Director, Gareth Fallows, who invited all children within the Acorn Family to design and submit a card for the company to send out to all of their employees, learners, customers and other stakeholders this festive season. A prize of a £100 donation to a charity of their choice plus a £50 gift voucher for themselves would be awarded to the winner.
Following over 30 submissions being received, Gareth had the difficult task of narrowing the entries down to four finalists. Amongst all the drawings, felt, glitter, sequins, pompoms and innovative crafting the four finalists were identified as: The snowman and rainbow, The Christmas pudding, Santa coming down the chimney and Christmas trees in the snow.
Acorn Training set their Facebook following the task of choosing the winner through liking the page and the picture they wanted to win. A total of 349 votes were cast, with 211 singling out a winner with a solid lead, The snowman and rainbow.
The snowman and rainbow card has been created by Teddy, age 4, whose Mum, Nicola, talks us through his design inspiration; "Rainbows have a very special meaning in our hearts, as Teddy is a rainbow baby – born after baby loss. We love looking for rainbows after it has rained and when the sun is shining. The rainbow has become a very symbolic part of the COVID-19 pandemic, as it supports the NHS and the incredible work they are doing. Teddy drew rainbows during lockdown and we put them in the windows, as so many children did, and we clapped and thanked the NHS each week. So when Teddy said he wanted to have a happy rainbow on his Christmas card design, we thought what a perfect idea for 2020.
We really didn't expect him to win, but we had some amazing support and lovely words from Acorn's Facebook following who loved his design. We just want to say Thank You to everyone that voted, it means a lot to us, and we hope it brings a smile to everyone receiving a rainbow Christmas card this year."
Nicola has confirmed that their chosen charity is MAAC – Midlands Air Ambulance Charity as Teddy loves spotting helicopters and aeroplanes. and they will receive the £100 donation from Acorn Training this festive season. Teddy said he chose the charity because "The air ambulance help people get better when they've hurt themselves."
During the competition, the Acorn Training UK Facebook page surpassed 1000 likes. An important milestone for the company who are proud to be a practitioner-led organisation that does well from doing good.
Notes to editors
The Midlands Air Ambulance Charity is responsible for funding and operating three air ambulance helicopters and two critical care cars serving the communities of six Midlands counties: Gloucestershire, Herefordshire, Shropshire, Staffordshire, the West Midlands and Worcestershire. This constitutes the largest air ambulance operating region in the UK. The charity also provides secondary cover to surrounding areas, such as Warwickshire and Mid Wales.
Since 1991, the charity has responded to more than 60,000 missions, making it one of the longest established and busiest air ambulance organisations in the UK.
The four finalists: